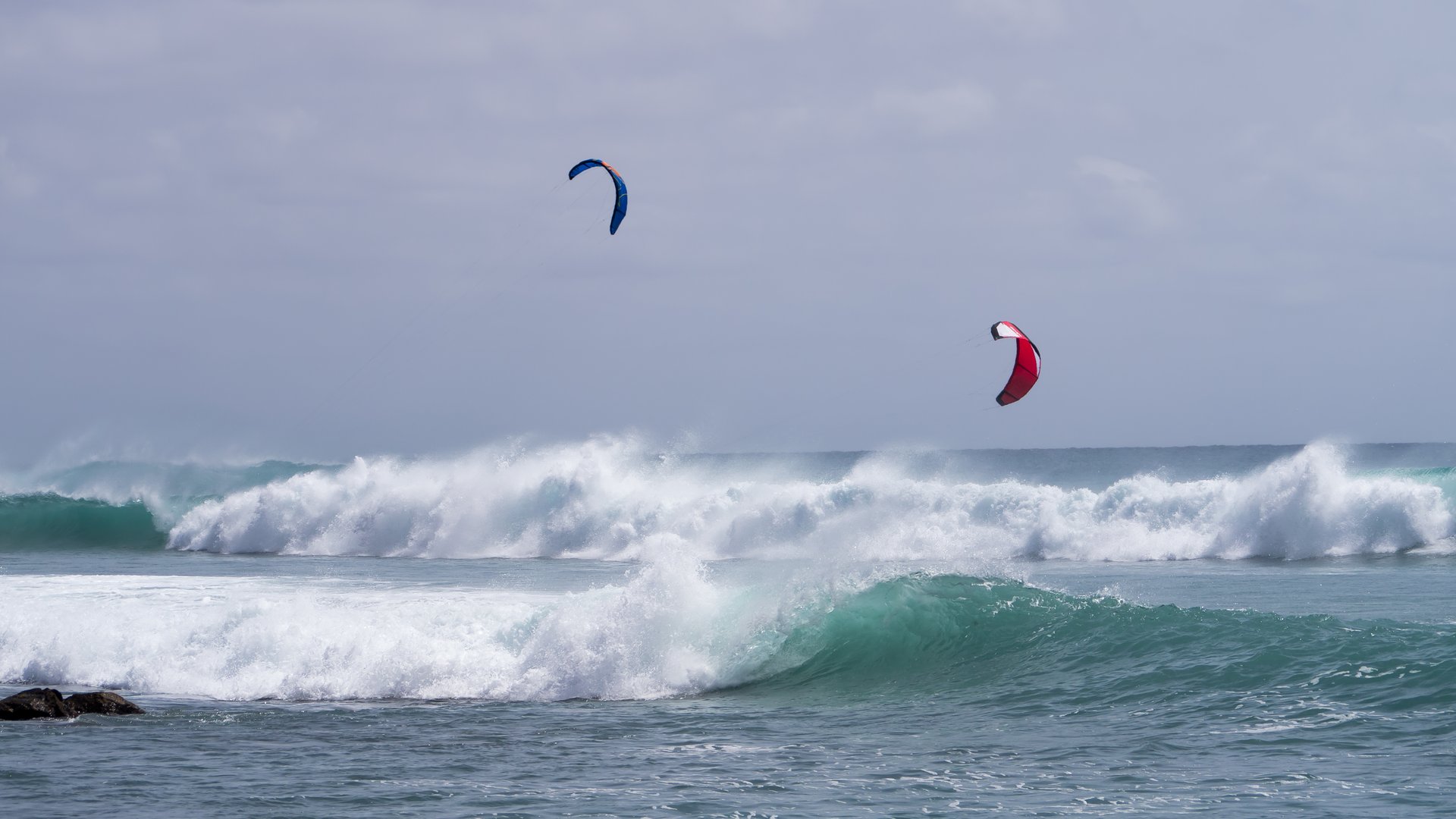 Ponta Sino kite spot in Sal
Africa kitesurf spot in Cape Verde
Ponta Sino lies at the Western end of Kite Beach in Cape Verde, offering a mid size wave generally more suited to intermediate and advanced kitesurfers. The wind here blows cross or cross off shore so be careful not to kitesurf too far out past the point and into the open ocean. It's one of the kite spots which is popular for jumping and freestyle, due to the waves breaking over a shallow reef with flat spots in between the waves. Kitesurfers wanting to jump should watch out for wave riders and vice versa.
Cape Verde itself is well known for its kitesurfing, and there are multiple local riders competing on the kitesurfing world tour. If you're lucky you'll get to see them in action in the waves, and if conditions are perfect you can head to Ponta Preta to watch or partake in some serious wave riding. Santa Maria is the local town where there is generally a really good vibe with all the kitesurfers hanging out in the evening, and the local seafood is as fresh as can be!
Peak Season
Jan
Feb
Mar
Apr
Dec
Kitesurfing wind conditions in Ponta Sino
November to Mid-June is the kitesurfing season on Cape Verde, when the trade wind blows between 15-25 knots cross or cross offshore most days, and the swells smash into this remote little island. The waves here can be powerful and break over a shallow reef in places, so be aware of where you are and don't get overconfident. There are flat spots between the waves and great kickers so freestylers as well as wave riders will enjoy it at Ponta Sino, just have to be careful not to go too far out into the open ocean in offshore winds. The temperature during the kite season is generally around 22 degrees celsius and the water is a little cooler, so a 3/2 mm wetsuit will be fine for most people. If you know you get colder during a long session then a thicker wetsuit might be in order.
Around the kite spot Ponta Sino
Santa Maria is the local town, where kitesurfing and watersports in general have carved out a tiny tourist utopia, complete with a multitude of shops, bars and restaurants. It's a small place but vibrant, and offers a bit of something for everyone including any non kitesur...
Wind Forecast for Ponta Sino
Wind Stats for Ponta Sino
Travel facts
camper parking

Not allowed, but possible
Kite conditions
body wear

long neo, short neo

ride type

freeride, freestyle, wakestyle, wave

skill level

intermediate, advanced, professional

water condition

choppy, medium
At the spot
emergency

A medical center, A rescue service, Kite repair