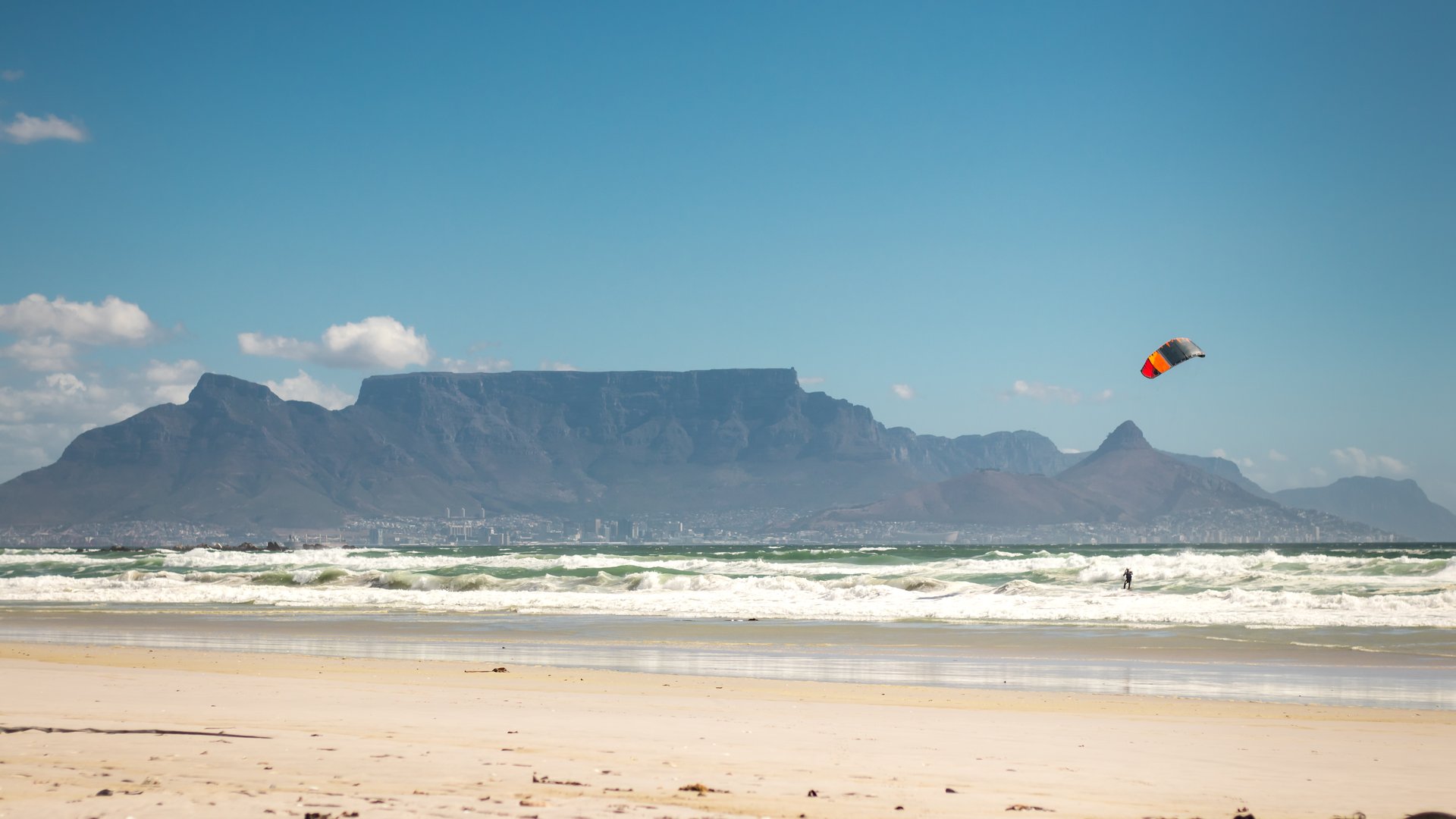 Big bay kite spot in Capetown
Africa kitesurf spot in South Africa
Big Bay offers big clean waves and pumping wind for more experienced kitesurfers, which is why the yearly Red Bull King of the Air competition was originally held there before it moved up the road to kite beach. It's also a popular spot for surfers and windsurfers so it can get quite busy, but on perfect days it doesn't get much better than kitesurfing at Big Bay. There is a promenade with cafes, bars and kite shops, and a grassy green overlooking the beach itself which is a great place to sit and watch the pros even if you aren't out kiteboarding yourself.
Big Bay is only an hour or so from Cape Town, 'The Mother City', and South Africa offers a whole lot more than just kitesurfing, which is why kitesurfers from around the world descend here in large numbers from December until March every year.
Off Season
May
Jun
Jul
Aug
Sep
Oct
Kitesurfing wind conditions in Big Bay
Big Bay tends to get slightly less wind than kite beach and the other spots, but the waves hold up cleanly even in super strong wind which makes it a great kite spot for strong wind days. The wind also tends to pick up a little bit later in the day, so early morning kitesurf sessions may be better elsewhere. The wind in peak season January until March can range from 20-40 knots, and is a little gusty on the beach and close by, but once you kitesurf out a little it gets much better.
There are rocks at either end of Big Bay, and it's a popular windsurf and surfing spot so be careful and check before you jump that you have clear water and enough room downwind! The beach can be small at high tide making rigging and launching your kite difficult, so this is definitely not a spot for beginner kitesurfers. Less experienced kiteboarders might enjoy themselves more at kite beach, and beginners should think about a trip to Langebaan, about an hours drive away.
Around the kite spot Big Bay
Big Bay is a bustling little spot, popular among tourists and locals alike, with bars, cafes, re...
Wind Forecast for Big bay
Wind Stats for Big bay
Travel facts
accommodation

near the spot

camper parking

Only by day
Kite conditions
body wear

long neo, short neo

ride type

freeride, freestyle, wakestyle, wave

skill level

advanced, professional

water condition

high, medium
At the spot
emergency

A medical center, A rescue service